If you're planning a trip to Egypt, you may wonder what to bring. As a budget backpacker who landed in Cairo on a whim (with very few clothing options), I can tell you exactly what to wear in Egypt as a woman. This blog has two separate packing lists. The first one will be for those going on a short trip (a few weeks) and the second for my fellow backpackers/digital nomads/full-time travellers who don't have much luggage space to play with.
Keeping the Culture in Mind
Egypt is a predominantly Muslim country and they dress very conservatively as a whole. It's important to respect their culture and that means staying away from clothes that are too revealing. But what does that mean? What's acceptable? I was pretty confused about where to draw the line when I first got to Egypt.
I asked my driver for more information and he said that tank tops and shorts are fine because I'm a tourist. He mentioned that locals know tourists dress differently. With that being said, I personally felt very uncomfortable in shorts when I was in Cairo. I found that even if I wore longer shorts or dresses just above my knee, I still got a lot of unwanted attention.
If you want to avoid the uncomfortable stares (mostly from men), I'd recommend wearing loose fitting pants and covering your shoulders whenever possible.
Weather
The weather in Egypt will depend on the time of year you plan to travel. Regardless of the exact month you go to Egypt, it's a very warm country on average with temperatures well above 40 degrees Celsius in the summer months. I was in Egypt in the middle of June and it was always high 30s, low 40s. You can travel during cooler months but you should expect to find a lot more tourists! The best part of travelling in the heat was avoiding the swarms of people you'd typically find at the pyramids and other tourist hot spots.
Keeping the weather in mind, the best way to dress is in loose and lightweight clothes.
What to Wear to the Pyramids
The Pyramids of Giza, among the other pyramids in Egypt, are one of the most spectacular sights! You'll want to get some great photos to look back on and part of what makes a photo special is what you're wearing. Now don't get me wrong, I'm not super into fashion but I know how an outfit can make or break a photo. As a backpacker with limited options, I often stick to neutrals with a pop of colour but it depends on where I'll be taking photos.
When deciding what to wear in Egypt, you can never go wrong with a scarf. If you don't have one, you can find them just about anywhere! They sell scarfs at the pyramids but you can also get them in Cairo. I found my blue headscarf at the Khan el Khalili Market in Cairo for 40 EGP, which is about $2. Don't be afraid to heckle with the shop owners when it comes to pricing. They'll start at 200+ EGP and depending on the fabric, you shouldn't pay more than 80 EGP, in my opinion.
PRO TIP: Start at 50% off when negotiating prices at these markets. The same goes for markets in Asia and other parts of the world where negotiating is the norm. If you stand your ground and walk away, they'll often chase after you, agreeing on the price you initially set.
Short Trip Packing List (2 weeks)
Deciding what to wear in Egypt as a woman on a short trip is pretty easy if you have a few staples. Here's what I'd suggest bringing with you if you have the luxury of space in your suitcase or backpack!
Flowy dresses (3-5) – Try to pack dresses with sleeves. If you don't have any, choose dresses that aren't too short/revealing and that will go nicely with a headscarf. I'd bring no more than one with a pattern because solid colours will go with everything! Two of my favourite flowy dresses I often take with me travelling are from Fortunate One. It's an Australian brand so shipping to North America can add up but they're quality piece and I'd definitely shop from them again.
Loose skirts (2-3) – I'd stick to solid coloured shirts that are just above knee length or longer.
Loose pants (3) – Neutrals are going to be your best friend. A soft khaki colour or white are great to deal with the heat. You'll find plenty of options at the markets in Cairo if you don't have any at home.
Tops (10) – Throw in a few neutral tanks that can be covered up with a thin scarf. Otherwise, I'd pack loose t-shirts or tops with flowly sleeves.
Sandals (3) – Black, white and a colour that goes with your outfits. You won't want to wear closed toed shoes in the desert heat so stick to simply and easy sandals.
Scarfs (3-5) – Bring your fave patterned or plain scarfs from home. Make sure they're thin and big enough to wrap around your shoulders! If not, you can always grab some once you get to Egypt.
Backpacker Packing List (35-45L backpack)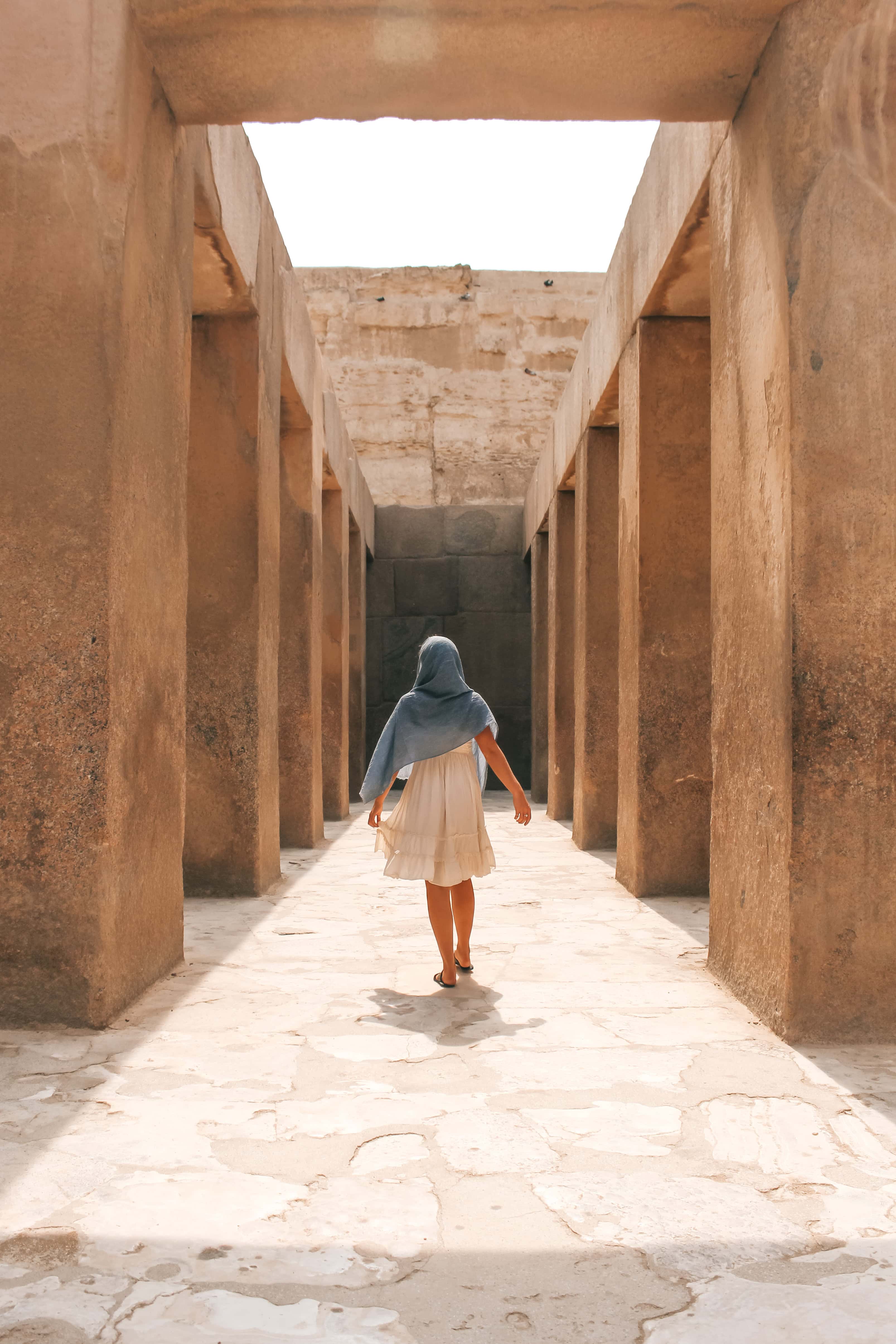 As I mentioned at the start of this blog, I had no intention of visiting Egypt. That meant I had less than an ideal amount of appropriate clothes to wear. If I could repack my backpack more carefully considering what to wear in Egypt, this is what it would include!
Flowy dresses (3) – I only had two dresses and it wasn't enough, even for a short trip. 3 dresses is perfect for a trip to the pyramids or other cultural sites.
Loose skirts (1) – You can pair this with a realm of different tops and they can fold/roll up quite small which is ideal.
Loose pants (2) – Luckily I had one pair of loose pants with me but it wasn't enough. I felt pretty uncomfortable when my legs were exposed so two options are safe. Look for lightweight material so you have more room in your backpack!
T-shirts (5) – The issue I had here was that most of my t-shirts were bright colours and didn't go well with other items of clothes I had. I'd choose a few neutral shirts.
Tank tops (3) – Once again stick to neutrals or soft colours that will go with your skirt/loose pants and scarf.
Sandals (2) – A pair of black and white sandals is all you need! If you want to cut down your packing, you could always just choose one black pair.
Scarfs (1-2) – I chose a colour that went nicely with the clothes I had. Bring some from home or you can find scarves for cheap at the local markets!
You're Ready for Egypt!
Figuring out what to wear in Egypt isn't as hard as it seems. As long as you have a few different options and think of how separate pieces can match up well with others, you'll be fine. If you're looking for more Egypt inspo, be sure to check out my TikTok and Instagram! I've shared budget travel tips, as well as hidden gems on my 'EGYPT' highlights.
See you next week with a new blog!
Cheers,
Amy xx
Save this post for later or share it with a friend!👇🏼