Ever considered travel in Montenegro? Montenegro is a country in the Balkans along the sea and has plenty to see and do! I spent 3-4 weeks in Kotor, exploring other areas of the country from there. During my time in Kotor, I met locals who introduced me to some special spots that I wouldn't have come across otherwise. This Montenegro travel guide will fill you in on just about everything you'll want to know about the country, including food, climate, activities, budget and of course, hidden gems!
The Best Time to Visit Montenegro
The best time to visit Montenegro will depend on the type of climate you enjoy. With winter weather sitting between 5-10 degrees celsius, you can enjoy Montenegro year round it's sunny and warm between May – September each year. It's generally 35+ degrees throughout the months of July and August so if you can't handle that type of heat, you might want to consider the shoulder seasons.
Travel between May-June and September in Montenegro is great because you can still experience a wonderful climate without heaps of other tourists. It's also cheaper when it comes to accommodation outside of peak season. I spent most of July and early August in Kotor and if I were to do it again, I'd definitely go in spring or fall to avoid the crowds and an absurd number of cruise ships!
Where to Stay in Montenegro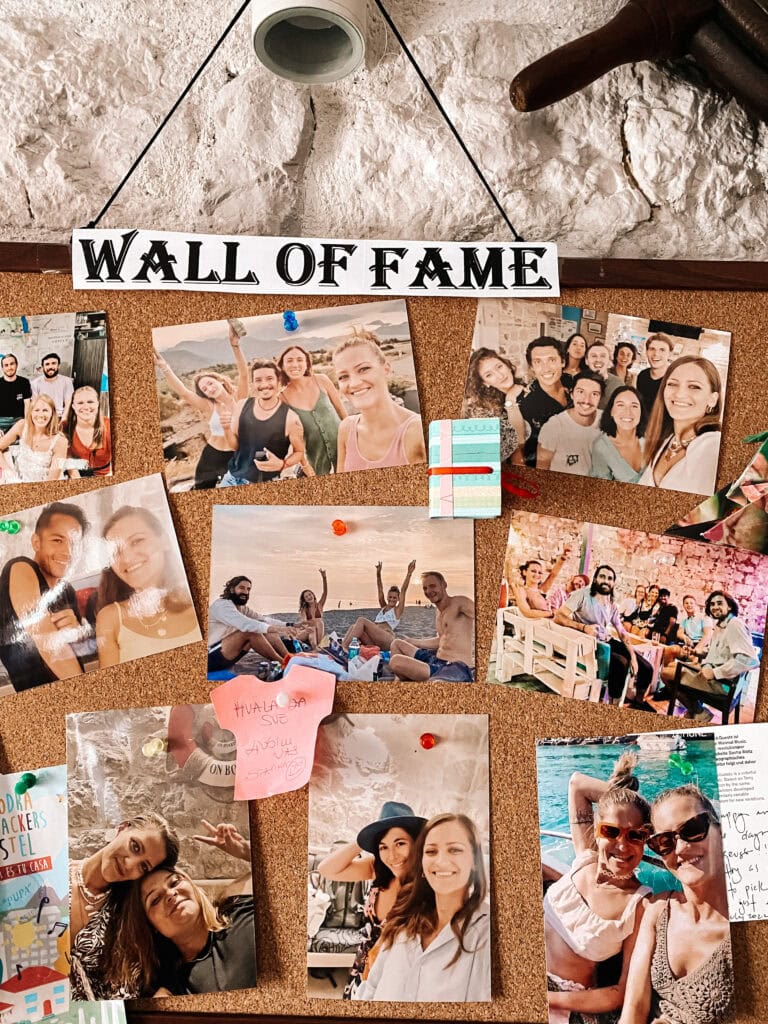 There are many beautiful places to stay along the coast of Montenegro. When it comes to accommodation, it's easy to come by hostels (for my fellow budget travellers 😉). There are also many Airbnb's to choose from and no shortage of hotels (especially in the more touristy/resort areas).
Here are a few hot spots to check out during your trip:
Kotor – An obvious choice for anyone coming or going to Dubrovnik, Croatia. It's probably the busiest area of Montenegro in the summer – for a good reason! Kotor is nestled along a beautiful bay with stunning mountain views.
Hostel recommendation: Pupa Hostel – €25-35 for a dorm room during peak season. I spent nearly a month at Pupa Hostel and while it's certainly not the nicest hostel I've ever stayed in, it was the cheapest I could find in Kotor and the staff are amazing! Kristina and Pablo made my experience in Montenegro better than I could have imagined and have become great friends. This hostel is also great because it's super close to the bus station and across the street from a grocery store. They also have a 'Wall of Fame' (pictured above) and 'Wall of Shame' that gave me a good laugh upon check-in.
Budva – Budva is a beach town and a lot of fun if you want to hit up beach parties and spend all day soaking in the sun. Otherwise, I heard that there wasn't much to do. If you want more of the hustle and bustle, I'd suggest staying in Kotor and doing day trips to Budva.
Hostel recommendation: Hostel B&B Budva – €9-15 for a dorm room.
Ulcinj – A small beach town at the south of Montenegro, Ulcinj is a good stop if you're travelling to or from Albania. I didn't spend any time here or know anyone who did but the beaches nearby look lovely!
Hostel recommendation: Hostel Center – €10-15 for a dorm room.
Getting Around Montenegro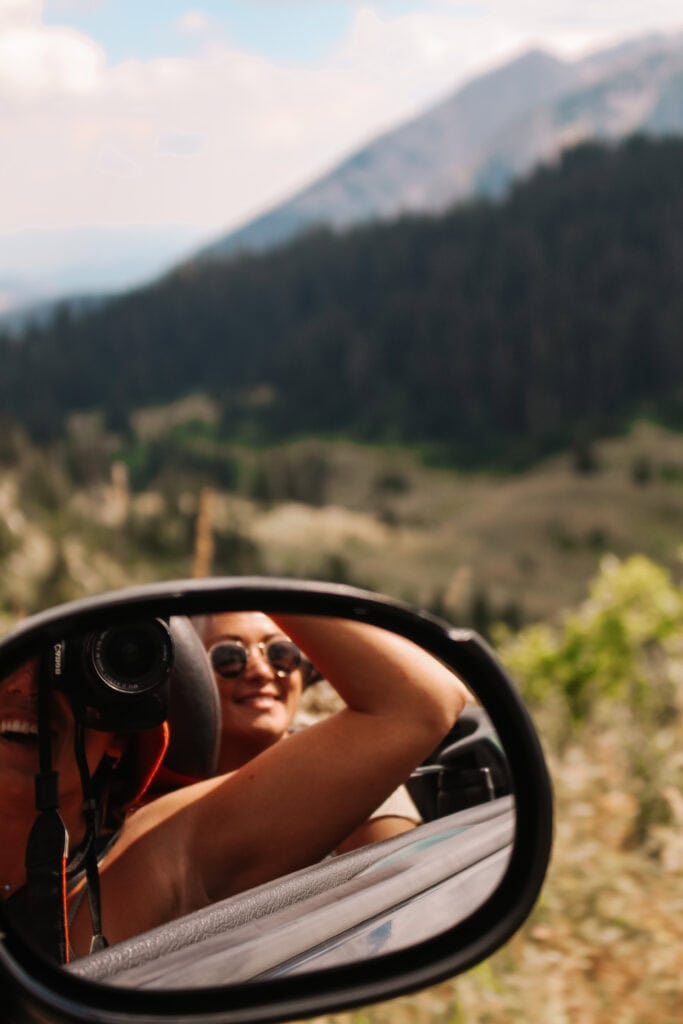 Depending on where you plan on travelling within the country, you'll have a few different options for transportation:
Local Buses – If you're staying in one place (such as Kotor) and travelling from there, you can see quite a bit by bus. Buses are the cheapest way to get around but be warned: they rarely come on time & they're often packed in the summer and it can get really sweaty! The buses in Montenegro aren't like most other buses in Europe. You often need to print your bus ticket out beforehand. If you don't and just have a mobile ticket, forget about getting on the bus because you won't be allowed on. Luckily, most hostels will gladly print out bus tickets for you. You should also remember to keep a few euros in cash on you because they often charge €1/$1 for each piece of luggage on longer buses. Printing tickets for buses won't apply to the shorter buses that are within the country. For those, just ensure you have a few euros on hand for the ride. 
Scooter – Hiring scooters to get around the country is fairly common. They're cheaper than a car hire but they don't have much power and can only go so fast. While I never thought I'd step foot on a scooter again after my experience in the Philippines, I did in Montenegro and felt much safer than expected. I went on the back of one with an experienced driver which I'd definitely recommend if you don't have much experience driving scooters.
Taxi – Uber doesn't exist in Montenegro so you'll have to catch a taxi if you're heading back to your accommodation late at night or to and from the airport if you can't get a bus. Taxis have meters but are hard to come by past 1 am so you might need to plan ahead of time if you're relying on a taxi. Most will communicate via WhatsApp.
Car Hire – You can easily avoid driving in Montenegro if you don't plan to move around much but if you want to visit more mountainous parts of the country, it might be worth it! Finding a car hire can be a bit tricky during high season. There aren't many designated shops so you might have to ask locals for a number and take your chance with hiring through a random. I hired a car with two other travellers from my hostel to visit Durmitor National Park for 1 day. We got a convertible and it cost €70 for the car, €50 for gas and €9 per person for park entry. So we paid a total of €49 per person for the car hire and park entry for the day. You can find cheaper (especially if you drive a manual) if you plan ahead but it was still a fair price for the distance we drove and the freedom we had to check out a new place that day.
Hiking in Montenegro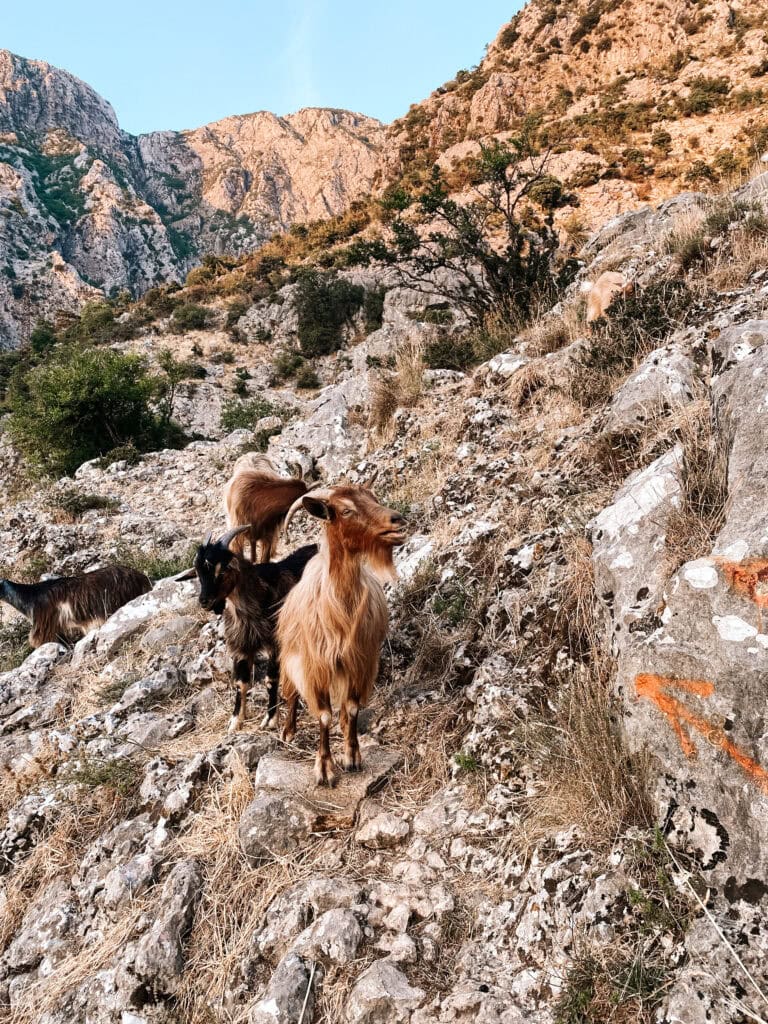 There are a few different places you can hike in Montenegro. If you're based in or around Kotor, here are a few hikes you should try:
Kotor Fortress Walls – St. John's Fortress is the name of the Fortress you'll see right above Kotor's Old Town. You can either pay €8 entry to climb up the stairs to the top and back down or you can go around the outside of the Old Town to climb up for free. I'd recommend the free route for the way up and taking the stairs back down. Go a bit before sunset to see beautiful colours from the top and start going down the stairs before it's completely dark, as they are very slippery! The free path starts where the Ladder of Kotor hike begins. Ask any local or those working at a hostel and they'll happily direct you to the start of the path. It consists of a few switchbacks and you get to climb through part of the fortress as well! It should only take you about 45 minutes to get to the top.
Ladder of Kotor – This hike will take about 5-6 hours to complete and it starts right outside Kotor's Old Town. I accidentally started this hike when trying to take the back route for the Fortress hike and ran into mountain goats along the way! It's a beautiful trail but be sure you have enough time to complete it before sunset, as the trail is slippery on the way down.
PRO TIP: There are plenty of other hikes around Kotor and other parts of Montenegro. AllTrails is the best website/app when it comes to finding trails whenever you are. You can filter by difficulty and find notes from other hikers. View more hikes near Kotor, Montenegro on AllTrails, here!
The Best Beaches in Montenegro
There's no shortage of beaches in Montenegro, which may be its biggest selling point! If you're staying in Kotor, there are a few small local beaches right in town but the water isn't very clean due to the many cruise ships coming through the Bay of Kotor. Instead, try these other areas for pristine beaches!
Perast – Recommended by locals and just a short 20 minutes from the centre of Kotor, Perast is a MUST for travel in Montenegro! When you get off the bus, you'll be above Perast and will have a great view from above. Walk down until you get to 'Pirate Bar'. Walk through the beach club and you'll see a small rocky beach to the right. Don't underestimate this beach! It's beautiful and the water gets deep fairly quickly so it's great for diving in on a hot day! 
Jaz Beach, Budva – With so many beaches to choose from in Budva, you might not know which one is best. That's where Kristina steps in (my local friend)! This is one of the best beaches in Budva according to locals, so it's definitely worth it. 
Sveti Nikola, Budva – This island beach is often referred to as Montenegro's 'Little Hawaii' because it's absolutely stunning! From Budva, you'll pay a few euros for a speedboat to the island for the day. Unfortunately, you can't spend the night on that island as it's privately owned. Regardless, if you can only visit one beach in Montenegro, it should definitely be this one!
Activities in Kotor
If you're spending the majority of your time in Kotor, there are heaps of things to do! Here are some of my fave activities in Kotor:
Paddleboarding on the Bay of Kotor – Walk down to the waterfront in Kotor and you'll see people with paddleboards for hire. I never ended up doing it myself because I was working while in Montenegro but I think it costs around €10-15 for a few hours if I had to guess. I'd recommend going just before sunset if you're there in the summer because the sun is insanely strong during the middle of the day and it won't be as enjoyable.
Sunset at Fortress Gorazda – This was probably my fave activity near Kotor! You'll either need a car or scooter to get there but it's 10000% worth it. People gather every night with snacks and drinks to watch the sunset set over both sides of the Bay of Kotor. They also filmed Papillion (2017) there and you can explore the inside of the fortress while it's still light outside. 
Blue Cave tour – You can book a few-hour boat tour that takes you to different caves. Book through your hostel or walk along the water and people will ask you if you want to come on the tour. It usually costs €40 if you book through a hostel but you can probably get the price down to €30 if you book through the people working at the boats directly.  
Trip to Our Lady of the Rock – This is located in Perast and is a small church on a man-made island. You can get a boat to the island right from Perast for about €10 or you can pay more for a proper tour of the church to learn about its history.
Bike/skate around the Bay of Kotor – Hire a bike or skate (if you bring a skateboard with you on your travels like me). It's a great way to get to know Kotor and find little nooks and crannies you'd typically miss!
Montenegro Travel: Day Trips from Kotor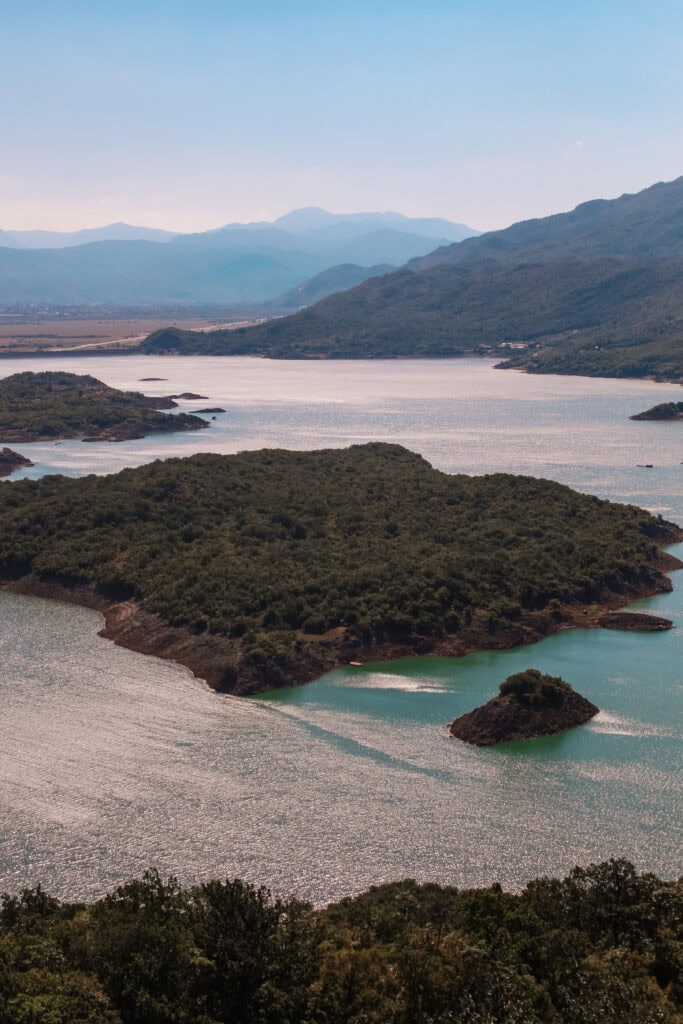 As a digital nomad, I like being based in one spot for a longer period of time so I can get more done and do day trips from there. If you're using Kotor as a base when you travel in Montenegro, here are a few day trips you should consider!
Durmitor National Park – This park is about a 4-hour drive from Kotor so you'll want to get up early to start the scenic drive along the water and up through the mountains! This was one of my favourite days in Montenegro because the scenery changed so drastically and there were so many stunning lookout spots to stop at during the drive. 
Scootering around the Bay of Kotor – Hire a scooter and explore different small beaches off the side of the road. Pack a picnic lunch and you're guaranteed to have an amazing time!
Lovćen National Park – Another beautiful national park that's only about a 1-hour drive from Kotor. There are two hikes you can do and because it's so close to Kotor you'll have more time to explore.
Budget for Travel in Montenegro
If you're used to Western European pricing or have travelled to Montenegro from Croatia, Montenegro will seem cheap. On the flip side, if you're coming from South East Asia or the Middle East, you'll be in for a bit of a shock.
So, how much can you expect to spend if you travel in Montenegro on a budget? Let's break down the costs:
Accommodation:
The price of accommodation will vary depending on where exactly you're staying and the time of year you're travelling but for the sake of simplicity, let's assume you're going during peak season and staying at a hostel. In this case, you'll probably spend about €30/night for a dorm room on average.
You can also do a work exchange at hostels to save money on accommodation. You'll have to work a few hours per day and in turn, you'll get a free bed and usually a few meals per day. I'd recommend doing this through Worldpackers. I did an experience with them in Uganda and have a 20% discount code: SPELLBOUNDTARVELS with this link. In this case, you'll pay €0/night for a dorm room.
Food/Drinks:
Eating at restaurants is fairly affordable in Montenegro. The prices jump up for places located right on the water (duh) and within the Old Town of Kotor. I spent €8 for a veggie risotto right outside the Old Town, €6 for a kebab-like wrap inside the Old Town (takeaway place) and €6 for an Aperol spritz inside the Old Town.
Assuming each meal is about €8 on average, you'll spend about €24 per day at restaurants. Of course, making your own food is cheaper than buying food in Montenegro. If you're buying groceries you can probably get by on about €10 per day.
Activities/Transport:
You can find quite a few free activities in Montenegro but if you happen to hire a car or scooter, have to pay for park entry or take a bus to another city or do another activity, your spending will start to increase quite rapidly. I'd suggest budgeting for about €20-30 per day for activities.
Daily budget:
Considering the above categories, you should have a minimum daily budget of €30-84 per day. As you can see, your budget can vary greatly, depending on what you want to see and do, as well as the lifestyle you're used to.
Montenegro Will Surprise You
I'm not kidding when I say that travel in Montenegro will surprise you. After travelling to 16 countries in 10 months, I can say with certainty that Montenegro blew me away. It won 'most surprising' for my travel awards because it had so much to offer!
I hope this Montenegro travel guide helps you plan a memorable trip. I'll be back next week with another blog but you can keep up with my current travels on Instagram and TikTok in the meantime.
Cheers,
Amy xx
📌 Save this post for later or send it to a friend 👇🏼