Anyone that works remotely knows just how important it is to find a good cafe or coffee shop to work from! After spending the past 5 months working remotely from Cape Town, I've discovered the best Cape Town cafes for digital nomads and I'm excited to share my findings with you. Let's jump into it!
Rating Cape Town Cafes
What makes a perfect cafe for digital nomads? I'm glad you asked! I'll be rating each cafe based on the following:
Wifi – How strong the wifi is, if there's a cap on wifi each day etc
Power points – Are there enough places to charge your laptop or phone?
Aesthetic – Not the most important but liking where you're working from can seriously impact how productive you are!
Menu & price – Are the food and drinks any good? How expensive is it?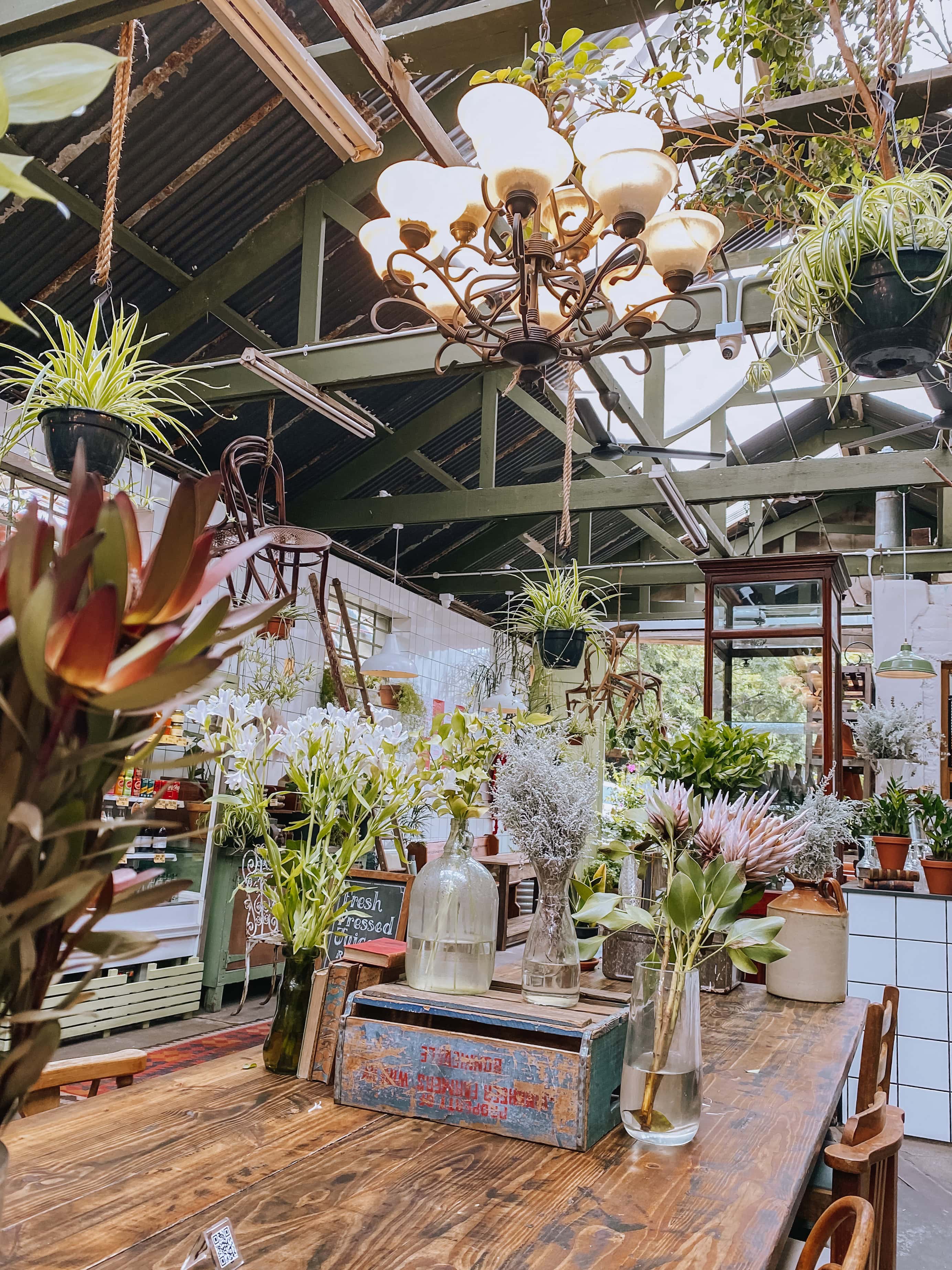 Enter Cape Town's most aesthetic cafe BY FAR. Our Local is located conveniently on Kloof Street, near many other restaurants, bars, hostels and shops. If you're looking for a pretty place to work from, you've found it. Our Local is covered from head to toe with plants and antique furniture, creating a stunning vibe throughout the entire place.
Unfortunately, there's a 2 hour cap on wifi so it's not the most ideal if you're hoping to do a full day of work from a cafe. There are a few places to charge electronics but because this cafe doesn't cater to digital nomads, it's limited. In my opinion, the menu could be better. It's a bit overpriced for Cape Town standards and I've had better food elsewhere.
Final verdict = 7/10
I had high hopes for Rosetta but I'm not going to lie, it wasn't my favourite spot. It's a nice cafe that's well lit with natural light but the wifi wasn't amazing. I found that I had to keep reconnecting after 30 minutes. The coffee was decent and there were a few places to charge your electronics.
I never tested out the food but one downside was that there weren't any bathrooms in the building.
Final verdict = 6/10
As much as Capetonians might hate on Bootleggers, there's no denying that when it comes to Cape Town cafes for digital nomads – you won't get much better! Since Bootlegger is a chain, they have reliable and uncapped wifi and many places to charge your electronics throughout the day.
Of course, when it comes to aesthetics, it can't compare to other cafes. It's actually quite dark in most Bootleggers (besides the Greenpoint location), which isn't always a vibe. With that being said, they have a fairly extensive menu and it's decently priced for what you get. I'd highly recommend checking out their coffee smoothie as it's become a staple ever since I started working from Cape Town!
Final verdict = 8/10
After first discovering The Ladder, it soon became my favourite of all Cape Town cafes. It's located on Bree Street, has uncapped wifi, a beautiful open and bright interior AND the food is great! I've tried a few different options from their menu but their warm tempeh stack is delicious. Not to mention, all of the food and drink options are fairly affordable.
Final verdict = 10/10
Of all the Cape Town cafes, this one certainly had the most potential but was a bit disappointing. It's very aesthetically pleasing with many plants and trees and a back garden to work from. I found the food and coffee to be pretty average and definitely a bit overpriced compared to other cafes.
The main downside is the 1 hour cap on wifi each day. If it weren't for this cap, The Strangers Club would have a much higher score.
Final verdict = 6.5/10
ERTH is a pretty cafe to work from with lots of natural light, a great menu and strong wifi. It's probably the most expensive of all the cafes I'm discussing but had places to charge your devices and wasn't too busy, which is great if you need a quieter place to work from.
It's located in Green Point which is a bit out of the way unless you're staying in the area and it wasn't a place that stood out as anything special.
Final verdict = 7.5/10
I'd be lying if I didn't say I was surprised by Vagabond Kitchens. There are a few locations but I've only tried the one in Sea Point. They have many options on their menu and it's the best option if you're on a budget, as everything is very reasonably priced.
The wifi is also great and I've never seen the place get too busy. The only place Vagabond Kitchens loses points is its aesthetics. It can be a bit dark, which isn't the most inspiring if you're spending the entire day working from there.
Final verdict = 7.5/10
Which Cafe Will You Try First?
It's safe to say that there are more than enough options for digital nomads working from Cape Town. I hope you give these cafes a try and let me know which one ends up being your fave! If you're looking for more Cape Town content, I have many more blog posts on South Africa here and I share interesting places to explore on my Instagram and TikTok each day.
See you next week with another blog!
Cheers,
Amy xx
Save this post for later or share it with a friend 👇🏼