Zanzibar is paradise. It's the perfect escape if you're after a beach vacation or winter getaway. If you're working online, you might be considering a tropical island to call your office. As someone who's worked from this island for two weeks now, I've discovered a few things you should keep in mind before making any decisions. This digital nomad guide to Zanzibar will walk you through everything you need to know, so let's get started!
Getting to Zanzibar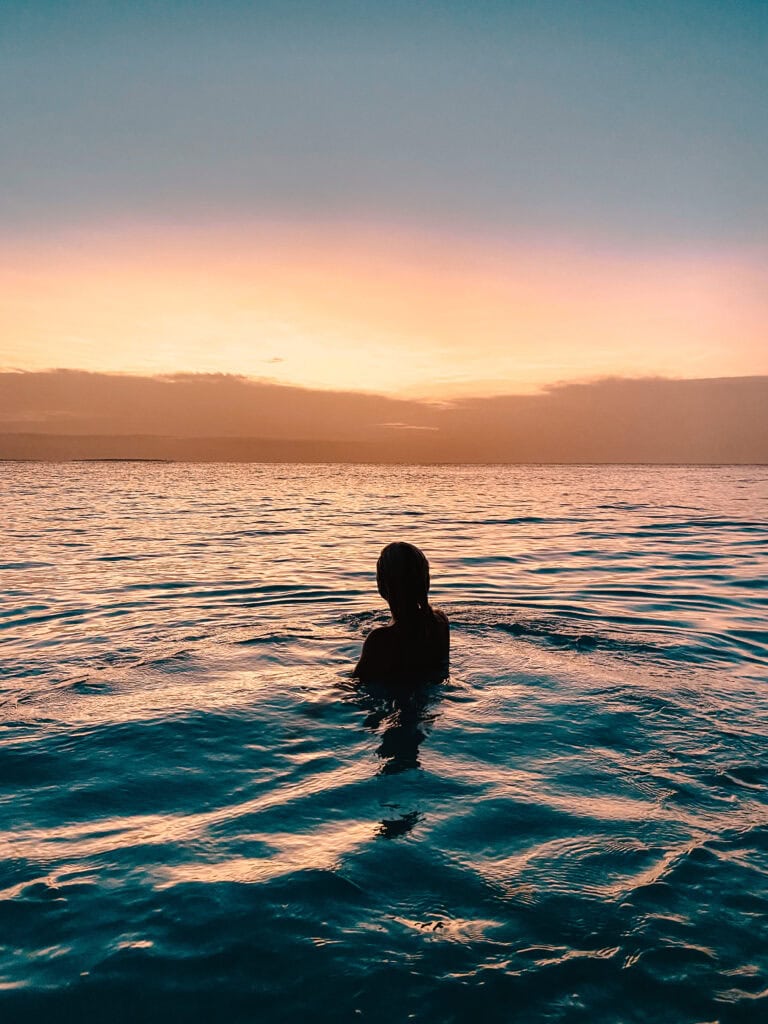 The two most common ways to get to and from Zanzibar are by ferry or flying directly to the island. If you can get a flight right to Zanzibar – do it! While it may be a little more expensive than the ferry, it will save you time and the mental exhaustion that comes with navigating the ferry with all your belongings (especially if you're travelling solo).
If you're choosing to take the ferry it's $30 USD for economy tickets but you need to arrive at least 1.5 hours early to secure a ticket, otherwise, you'll have to pay $40 USD + for business class.
You should also keep in mind that when you arrive, you'll have to do a rapid antigen test for $10.50 USD (was required at the time of this post – Feb. 22, 2022). Restrictions are constantly changing so check official government websites before your trip to stay informed.
Accommodation in Zanzibar
When considering working abroad in Zanzibar, you need to consider accommodation. From my experience, there aren't many great options for budget accommodation. You can find hostels in popular areas such as Paje and Nungwi where shared rooms start at around $20 USD/night.
If a hostel isn't your speed, you can expect to pay around $30-35 USD/night for a guest house or small Airbnb. Airbnb would be the best option if you're planning to come to Zanzibar with a group of friends who are also working remotely.
Transport in Zanzibar
Zanzibar is a large island that takes around 2 hours to drive from the North to the South. Getting around is easy but not exactly the cheapest if you go for the most convenient option. Here are the best ways to get around the island:
Taxi – Taxis will always try to charge you the most so don't be afriad to negotiate! When grabbing a taxi from the ferry, you should never pay more than half of what they suggest. For example, I got a taxi from the ferry to Paje and they started at $65 USD and I was able to talk them down to $30 USD.
Scooter/Car Rental – The best option if you want felxibility! Just be sure to be careful if you decide to rent a scooter because many people get in accidents on the island. Read about my scooter accident in Asia before you make any decisions!
Scooter Taxi (Boda Boda) – Taking a boda boda to get around the island might be your best bet if you don't want to pay the taxi rates or drive a scooter yourself. It's about a 1/4 of the cost of a taxi and will get you just about anywhere pretty quickly. You can ask your accommodation to find you a boda boda or you can simply walk down the street and ask anyone with a scooter if they do boda boda!
Local Bus (Dala Dala) – I'm usually a bit apprehensive to take the local transit but will push myself to do it for a new experience. In Zanzibar, the dala dala is BY FAR the cheapest way to get around. You can get from the top of the island (Nungwi) to Stone Town for only 2500 shillings ($1 USD). Of course, the dala dala will take the longest and you're likely to be one of the only tourists on there.
Wifi and Internet in Zanzibar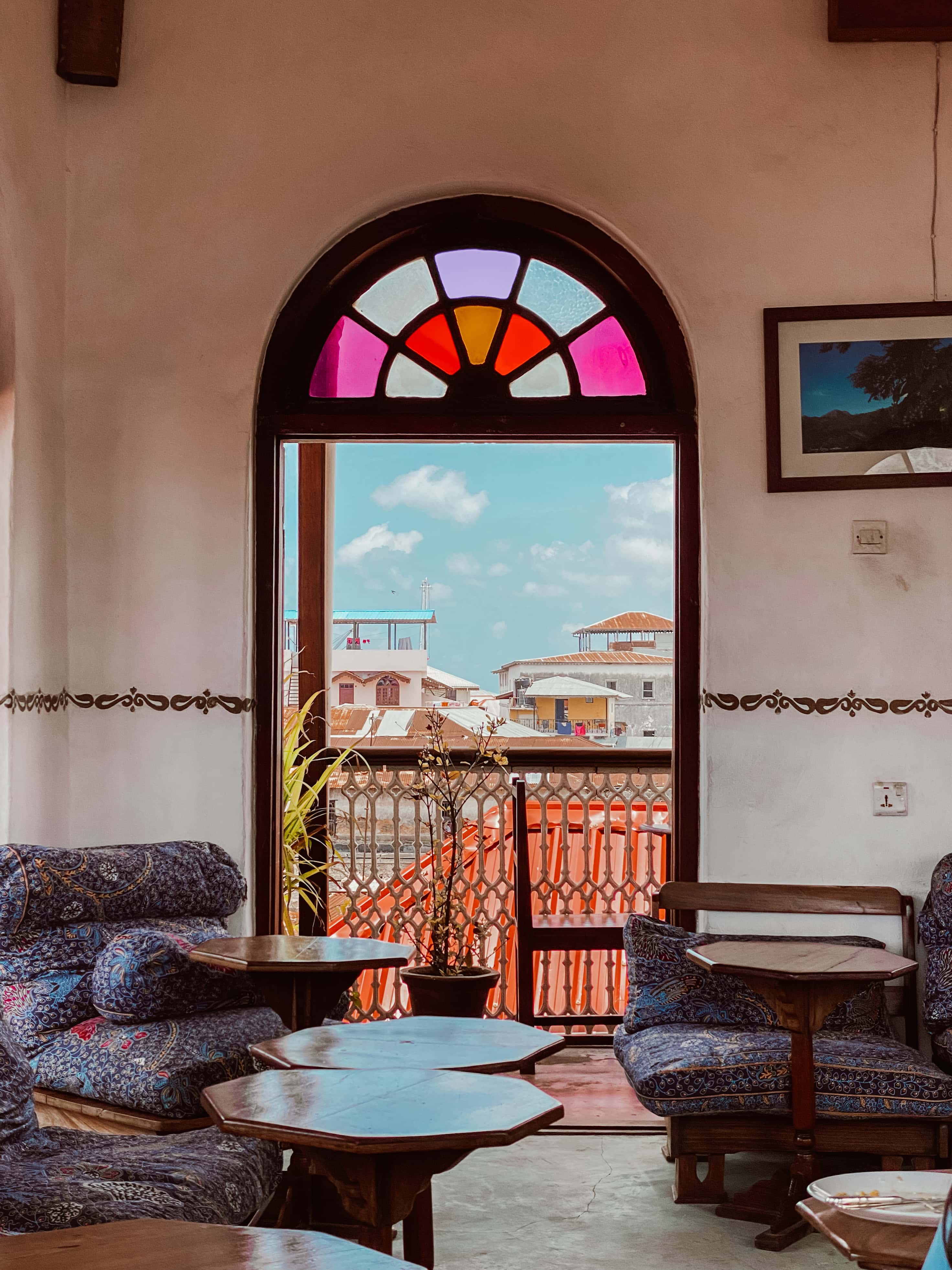 Zanzibar doesn't have the same infrastructure that you'll find in other parts of the world. That means it's not uncommon for the power to go out for long stretches of time. It's also challenging to find good wifi. So how can you get around this?
Buy a SIM – As soon as you land, get a SIM card through Zantel or Vodacom. I'd recommend getting a large amount of data so you can hotspot when the wifi isn't working. I personally got 37 gigs for $22 USD. This should last you the entire month but you can always top up if needed!
Work from resorts – When you have an important call or work to get done, do so from a resort. They'll have the strongest wifi and genertors for when the power goes down.
Work from restaurants/cafes – Since co-working spaces aren't much of a thing in Zanzibar yet, restaurants or cafes will be your best bet for working on a daily basis. I found Paje to have the best options for places to work from.
Is Zanzibar Budget Friendly?
This digital nomad guide to Zanzibar wouldn't be complete if I didn't fill you in on the budget! Most digital nomads are looking for a place that's budget-friendly so they can afford to travel while working remotely and possibly save quite a bit of money at the same time.
Sure, you can live and travel around Zanzibar on a budget BUT it's certainly not my top pick for a budget-friendly digital nomad destination.
Where to Work in Zanzibar
Finding a good spot to work in Zanzibar can be a bit of a challenge, depending on where on the island you are. The best place for digital nomads in Zanzibar is Stone Town. Stone Town is the World Heritage Site that's in Zanzibar City and is often the first stop for a trip to Zanzibar as the ferry terminal and airport are close by. There's a lot to see and do in Stone Town when you're not working but it doesn't have the crystal clear water and stunning beaches you'll find on other parts of the island.
Best Wifi in Stone Town:
Stone Town, without a doubt has the best working options for digital nomads in Zanzibar. A few co-working spaces are starting to pop up, such as The Train's House Co-Working Space but if you don't want to pay a membership fee, you can find some restaurants with wifi. Your best is working from a resort's restaurant or cafe. If you want to work with a beautiful view of the city, Zanzibar Coffee House has free wifi for a limited time and then you might need to switch over to your hotspot.
Best Wifi in Paje:
Although Paje is known to be the party spot in Zanzibar, there are a few good spots to get work done! Mr. Kahawa (Swahili for Mr. Coffee), is by far the best place to work, in my opinion. They have a good selection of food and drinks, the wifi is fast and there are many spots to charge your laptop! I also spent some time working at The Nest but I found that their wifi wasn't as reliable.
Otherwise, I'd check out some of the resorts along the beach if you're on the hunt for good wifi in Paje!
Best Wifi in Nungwi:
I surprisingly struggled the most with finding good wifi in Nungwi. It's a very touristy spot so I expected the wifi would be better than it was. Resorts are really the only place you'll find reliable wifi here.
Tips for Digital Nomads in Zanzibar
If you're ready to make Zanzibar your next digital nomad destination, here are a few things to keep in mind:
Keep your devices charged – Since you can never be too sure as to when the power will go out, it's important you keep your devices fully charged. Bringing a power bank with you can help ensure you never run into a situation where your computer/phone dies when you're in the middle of work and are unable to chage it.
Weather – Do you work well in 30+ degrees and humidity? It will be challenging to find air conditioning on the island (unless you're staying at a resort), so that's another thing to consider.
Bugs – I don't know about you but mosquitoes absolutely LOVE me. Unfortunately, I don't exactly love them, so working in Zanzibar wasn't super fun for me. You can find some pretty good bug spray/cream to put on in the evenings but they're hard to avoid completely.
Is it worth it?
To be completely honest, I wasn't 100% sold on Zanzibar for digital nomads. With the temperature staying at around 30 degrees celsius throughout the entire day (AND night), I found it incredibly hard to focus on work. While there are certainly other people working remotely, it doesn't have much of a digital nomad community and most people still go to Zanzibar for a quick island vacation.
Working as a digital nomad is such an exciting endeavour but can seem overwhelming if you've never done it before. The 'Becoming a Digital Nomad' ebook was designed specifically with first-time nomads in mind. It takes you through job opportunities for digital nomads, the best destinations, finding your community and much more!
That's a wrap on this digital nomad guide to Zanzibar. If you want more Zanzibar content, head over to my TikTok and I'll see your shortly with a new blog.
Cheers,
Amy xx